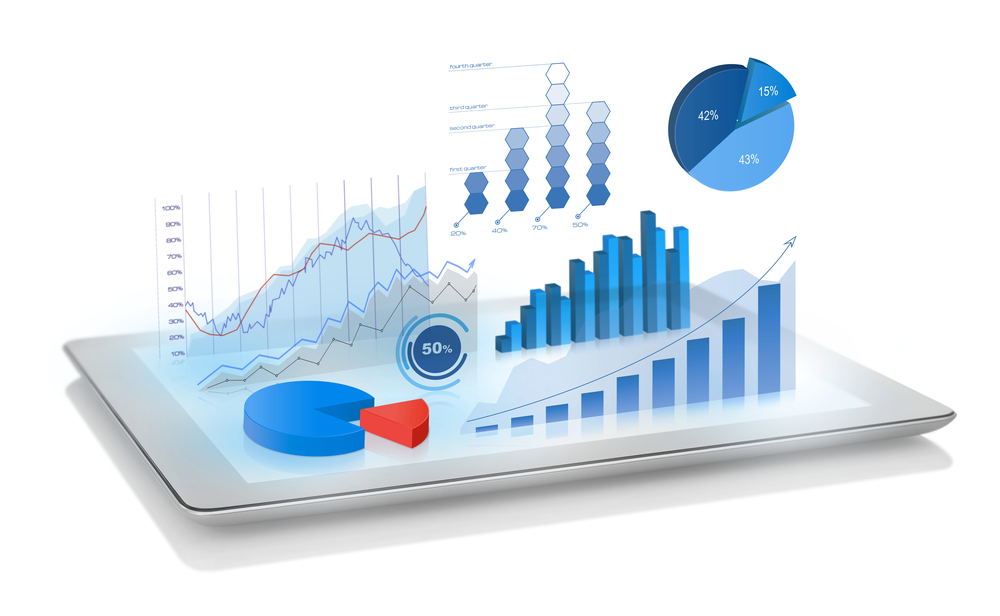 Nothing makes a business look smarter and more tech-savvy than an infographic. Previously reserved for Fortune 500 companies and the like, data visualization is now a requirement in any competitive company's toolkit. Which is why we're sharing the best data visualization tools of 2019.
These tools will allow you to create an array of charts, plots, maps, matrices, or diagrams, transforming data sets into easy-to-digest information.
Tableau (and Tableau Public)
Best for: Creating maps, charts, and public-facing visualizations.
Features:
Desktop app, server, online versions, and free public options

Hundreds of data import options available

Creates color-coded maps for geographical data

Extensive gallery of infographics and visualizations
Infogram
Best for: Non-designers who are looking to create marketing materials such as reports infographics, social posts, and more.
Features:
Has drag-and-drop for easy design

Can be exported into PNG, JPG, GIF, PDF, and HTML

Can embed interactive designs in websites and apps, including a WordPress plugin
ChartBlocks
Best for: Those looking for a free option and easy creation of impressive basic charts and graphs.
Features:
Has API that can import data from anywhere, including from live feeds

App lets you create extensive customized features and the exact data required before importing

Creates all styles and formats of charts with responsive output that's ideal for viewing on any device
Datawrapper
Best for: Creating data visualizations on news sites.
Features:
Designed specifically to be embedded in news websites

Interactive creation

Copy and paste data into the tool to create charts with a single click

Charts include tons of styles, including election donuts, area charts, scatter plots, choropleth, and maps

Pro finish is styled to mimic top sites such as

The

New York Times

Free plan allows embedding
D3.js
Best for: Programmers with JS knowledge or those with access to a programmer.
Features:
JavaScript library for manipulating documents using data

Non-programming users can use apps such as Plotly's Chart Studio to access the library
Google Charts
Best for: Designers with a comfort level for coding and those using an SQL database, such as Google Spreadsheets and Salesforce, as well as large data sets.
Features:
Free data visualization tool

Creates interactive charts for embedding online

Based on HTML5 and SVG outputs

Works with dynamic data

Works in browsers without additional plugins

Works with Google Spreadsheets/Tables, Salesforce, and other SQL databases

Creates a wide selection of customizable charts
FusionCharts
Best for: Creating easy to use dashboards even if you have limited programming skills.
Features:
JavaScript-based option

Has more than 150 chart types

Has over 1,000 map types

Integrates with JS frameworks

Integrates with server-side programming languages

Easy embedding on websites
Chart.js
Best for: Designers looking for an easy open source customization option for interactive visualizations.
Features:
Easy-to-use, highly flexible JavaScript charting library

Open source with a respectable selection of eight chart types

Allows for animated and interactive design

Uses HTML5 Canvas for output

Renders charts for modern browsers

Mobile-friendly design
Grafana
Best for: Creating dashboards using mixed or large data sources required for internal use.
Features:
Open source visualization software

Creates both dynamic dashboards and other visualizations

Supports mixed data sources, annotations, and customizable alert functions

Hundreds of plugins available to extend it

Shares snapshots of dashboards

Invite collaborators

Supports over 50 data sources via plugins

Free download available
Chartist.js
Best for: Designers creating basic, small-sized, embeddable, and responsive charts.
Features:
Free download

Open-source JavaScript library (10KB when GZIPped)

Creates responsive, customizable charts

Cross-browser compatible

Charts can be animated

Can be extended using plugins
Sigmajs
Best for: Designers comfortable using JavaScript looking for a single-purpose visualization tool to create network graphs.
Features:
Highly customizable for those with basic JavaScript knowledge

Creates embeddable, interactive, and responsive graphs
Polymaps
Best for: Designers with basic coding skills who want to create maps.
Features:
Dedicated JavaScript library designed specifically for mapping

Dynamic, responsive outputs

Variety of styles, including image overlays, symbol maps, and density maps

Uses SVG for image creation, allowing designers to use CSS for design customization
Let's Bring your Data to Life
We hope you find this list of the best data visualization tools useful for your business. If you need help unlocking the power of data, whether it's for a customer-facing application or for internal use, the Rebel Unicorn can help.
Our creatives have extensive experience turning deep data sets and complex ideas into easily digestible infographics.
Contact us today to learn more!