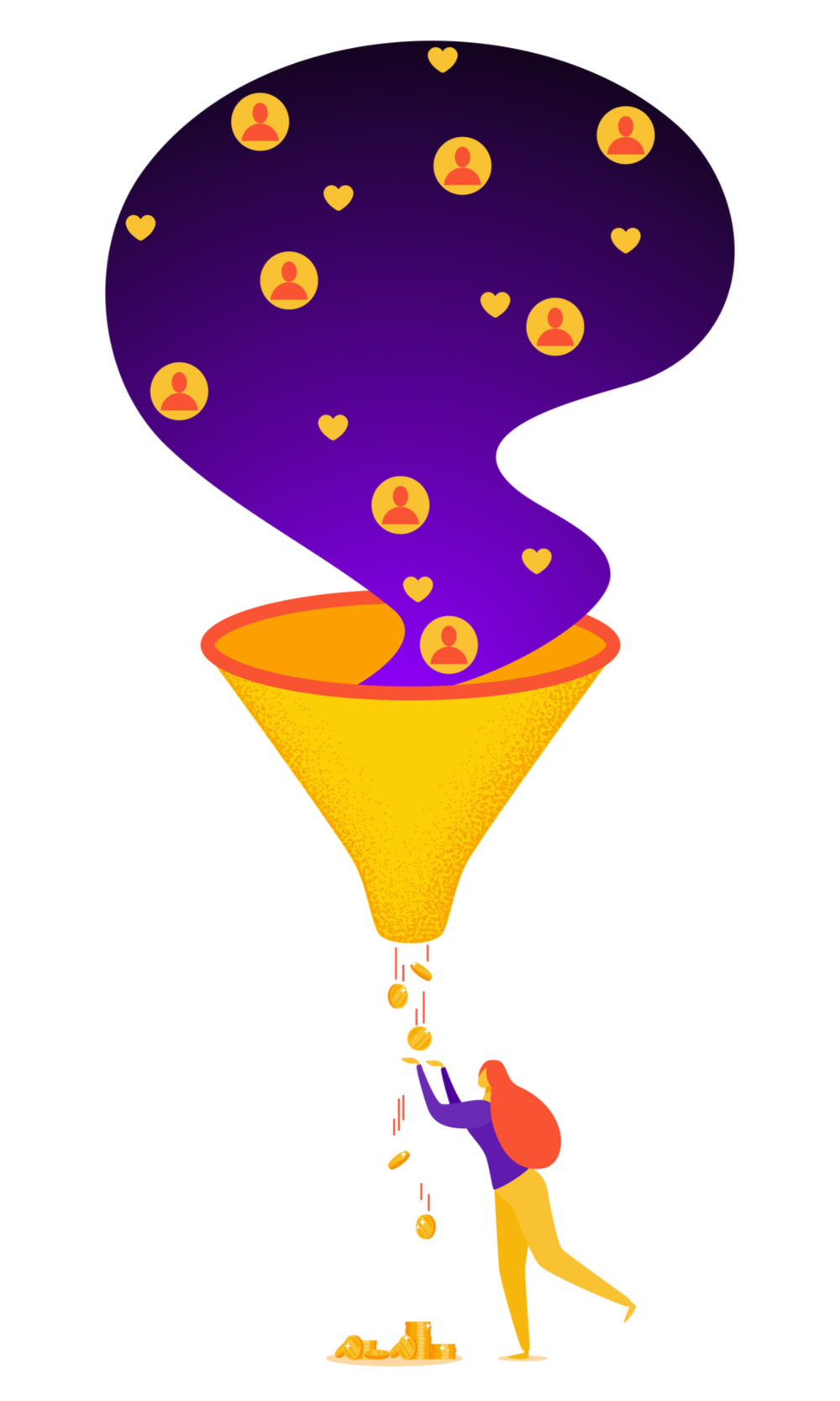 The digital marketing funnel helps your sales team identify opportunities along the legs of your customers' journey. It's almost like an educational process where your prospects learn about your brand based on a number of sources from ads to blog content and social media to interactions with your team.
Your digital presence is your best tool for capturing leads and generating sales. A digital marketing funnel acts as a guide for your prospects. Here's how you can create your digital marketing funnel in 10 steps:
Choose Your Offer: Determine the details of the product or service you wish to offer.
Create a Lead Magnet: Offer something to prospects on your landing pages so you can collect their information. This can be white papers, videos, ebooks, free newsletters, etc.
Solve a Problem: Your free info should be of value to prospects. Solve a common pain point your customers tend to share so they learn more about you and understand how you can help them.
Be Exclusive: Your funnel freebie has to be an exclusive offer you aren't providing anywhere else in your marketing efforts. It has to be unique and more valuable than anything else they can find on your website or from the competition.
Create a Landing Page: You have to send prospects to a page where they can request the freebie and you collect their contact info. The page includes the offer, benefits of the offer, and a way to collect their info. Our team can help you design killer landing pages

to see results.

Compose Your Drip Campaign: You'll need an automated email sequence

to follow up with prospects once they request the freebie. Have at least three emails you can send out on a schedule to keep them engaged and to educate them on what you offer. Some examples for your emails could include delivering the freebie right away, a welcome email within 24 hours and then a few value emails that provide relevant info regarding the freebie product or service. Case studies and social proof can also be added to let them see you are reputable and valued by your customers.

Automate: Marketing automation allows you to manage marketing actions to find, engage, and convert more leads. We can make it easy using software to simplify

all the stages required.

Drive Traffic: Digital marketing methods will help drive traffic into your tunnel via the landing page. This can include social media

, subscriber offers,

SEO

to drive traffic to your website/landing pages,

digital advertising campaigns such as PPC

, sponsored content, influencers, etc.

Nurture Loyalty: With the right approach you can help customers see you as their go-to solution. They share this info and encourage other prospects to enter your funnel. Tactics can include discounts for referrals, thank you gifts, rewards programs, etc.
Funnel Optimization: Testing to make sure your funnel is working is very important. You can use your tests to optimize your funnel to increase conversions. A Heatmap Tool shows you where visitors venture out from your landing page so you know what info they are seeking. You can then improve those pages so they see what they need to take action more easily. You can also use A/B Testing to compare different elements of your landing page to see which version gets better results.
Your digital marketing funnel takes in new prospects at the top and feeds them into the funnel. They can find relevant information that encourages them to take action. At the bottom of the funnel, the information used to nurture them will help you acquire more conversions to grow your business.
Bring on Marketing Automation Now
Don't wait to create your digital marketing funnel. The Rebel Unicorn can provide you with the most effective marketing automation solutions, so your marketing funnel saves time and brings in more qualified leads.
We can help you grow your business, improve the user experience and jump-start lead generation with more qualified leads ready to complete their customer journey.
Contact us today.