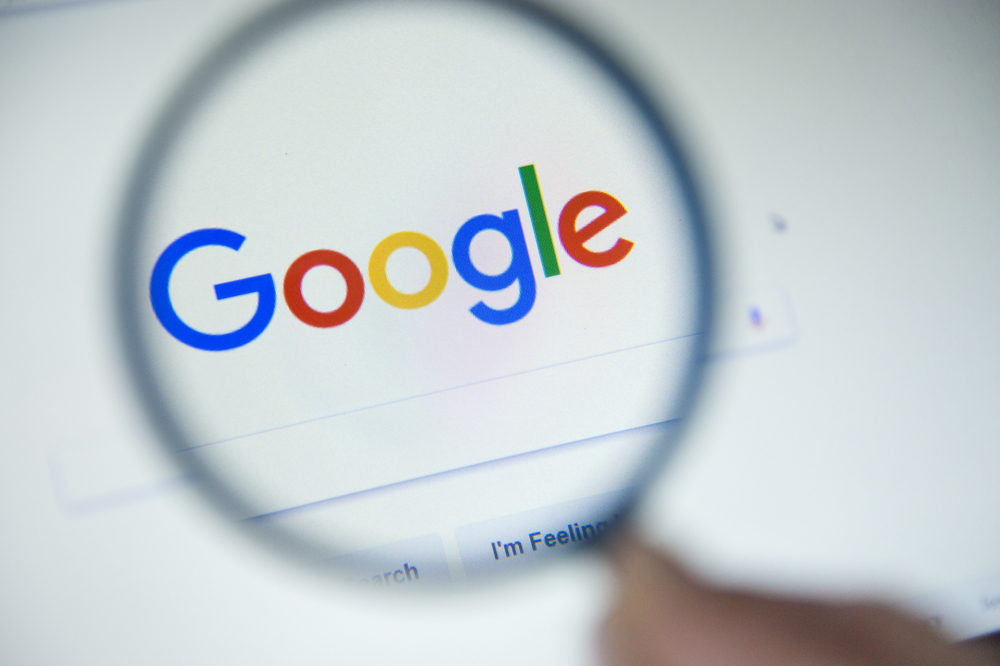 If you were paying attention to your rankings in the search engine results pages (SERPs), you may have noticed a lot of volatility in May. Google's May 2020 update involved a major change to its algorithm. Google called it a core update because of how big it was.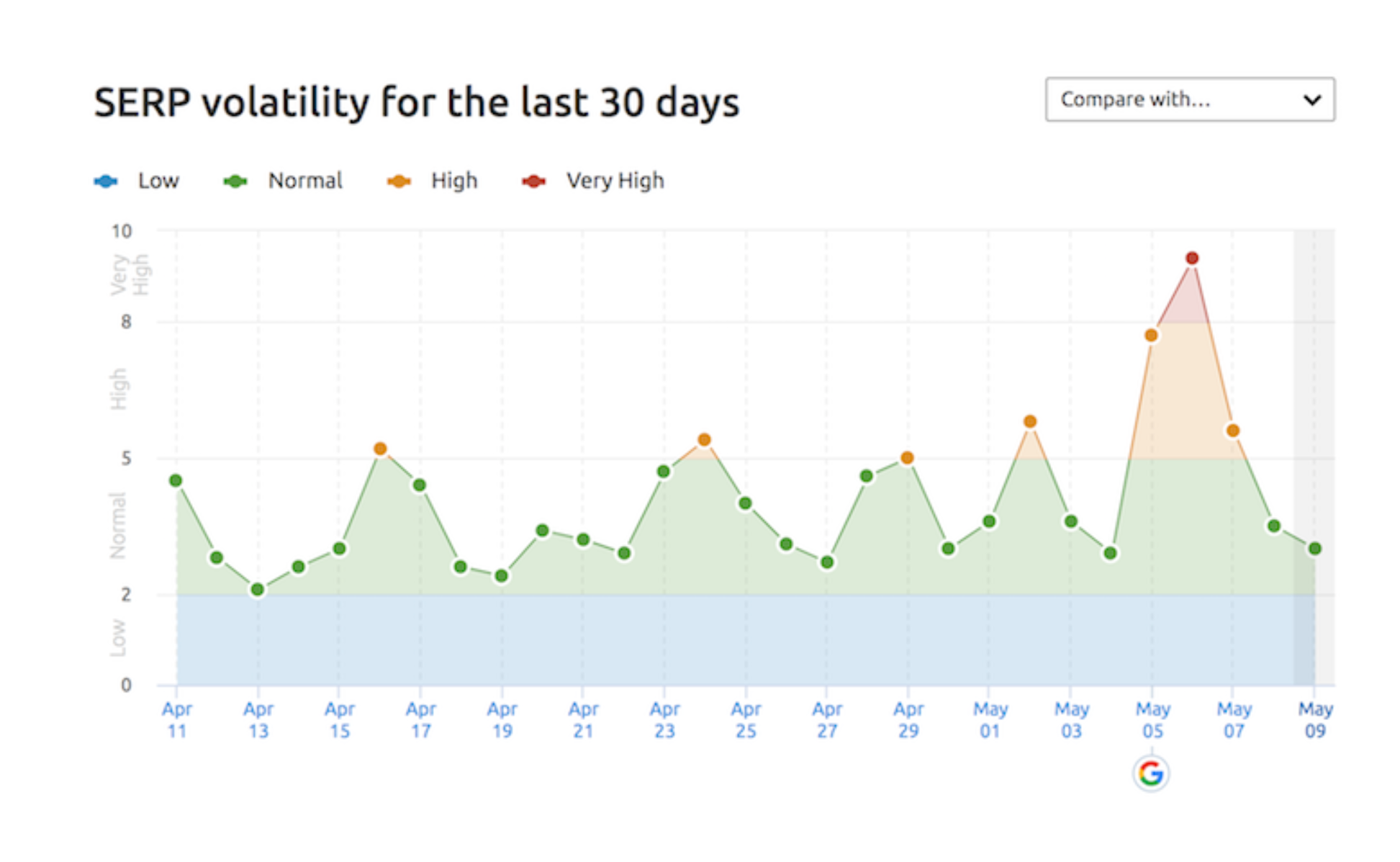 The above chart shows just how big this update was. All of the green and blue areas represent very little movement. As you can see, the chart turned yellow and red in May. This shows the extreme SERP volatility caused by Google's May 2020 update.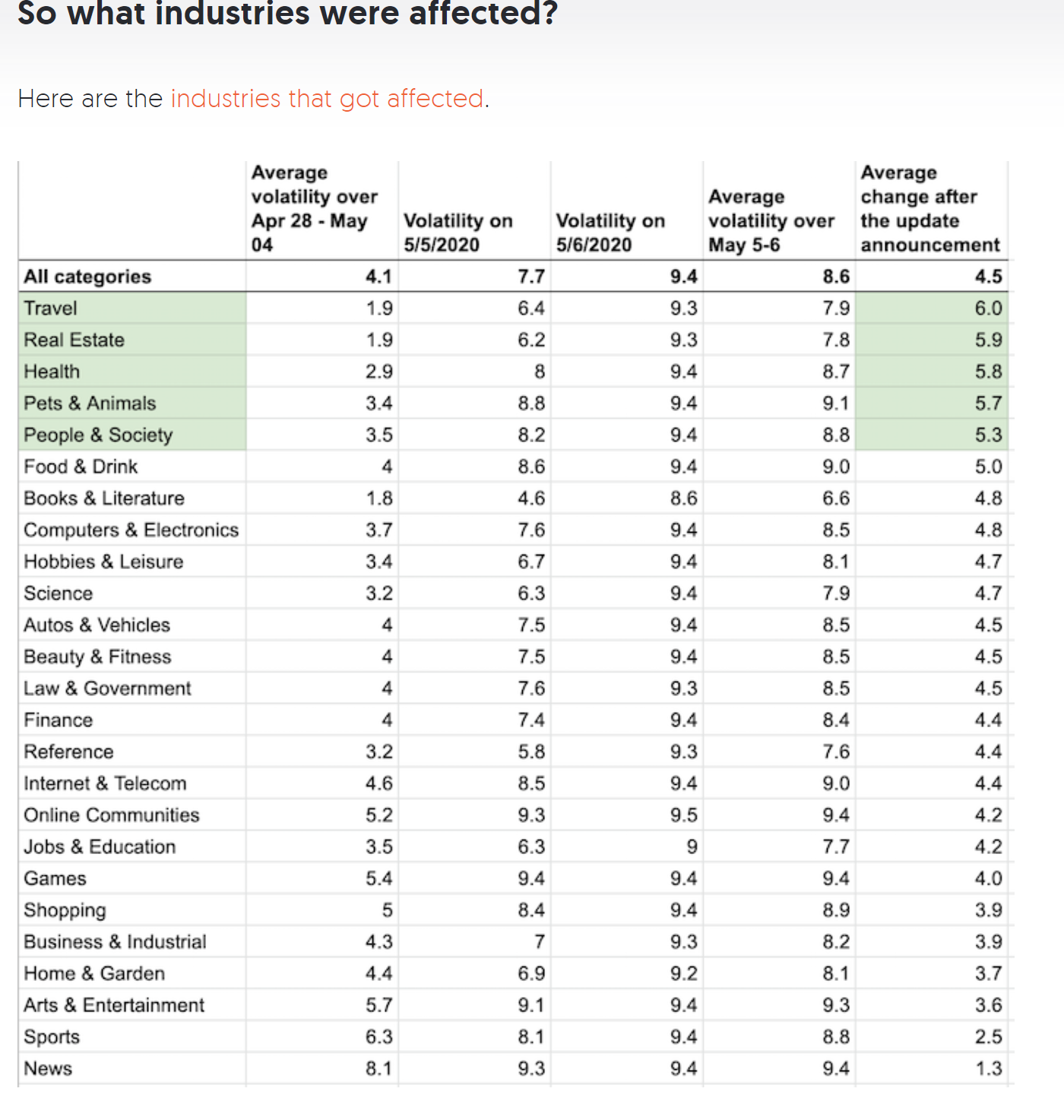 Which Industries Were Affected the Most?
If you were watching your search engine traffic in May, you probably noticed a major change. Depending on your website, your rankings may have gone up or down significantly. Travel, real estate and health sites were affected the most. Meanwhile, news and sports websites were affected the least.
Even if you have a high domain score, you may have watched your rankings drop in May. The New York Post, Credit Karma, LinkedIn and Spotify all suffered from a rankings decline. When you look at which sites were affected the most, there were a couple of commonalities that linked them together.
The sites that were affected the least were more likely to update their content regularly. This includes old content as well as new content. Neil Patel tracks 641 sites that update their old content on a daily basis. Out of these sites, only 5.92 percent saw a decline of 10 percent in their search engine traffic. A total of 187 saw an increase of 10 percent in their search traffic.
Start Updating Your Old Content Now
Thanks to Google's May 2020 update, your old content now plays a huge role in your SERP rankings. In order to keep your ranking, you need to make sure your old content is relevant to your reader and updated regularly. If it is not, you should delete it or redirect it to a relevant URL.
You can also update your content with new infographics, additional paragraphs, videos or step-by-step instructions. If there are any dead links, you should fix them. You can also spend time making your article simpler by removing complex words and unnecessary sentences.
As you update your old content, look up the five keywords each page ranks for. Google those terms to see what the top pages look like. Often, you will see a few commonalities among these pages. Ideally, you should incorporate these qualities into your own content.
To succeed after Google's May 2020 update, you may need to lengthen your articles. Ubersuggest analyzes 71 websites a minute. An estimated 46 percent of these websites have at least one page that contains thin content. During the May update, 127 out of 400 of these sites saw a decline in traffic of at least 10 percent. These sites were three times more likely to be affected in a negative way by the update.
While you do not want to add fluff, you should consider ways to lengthen your articles. Ideally, your articles should have at least 1,000 words. If you need ideas, you can try looking at other sites that rank for the same keywords. You may be able to add new sections to expand your pages or answers to frequently asked questions.
Other than making your articles longer, you should also fix search engine optimization (SEO) errors. For example, you should not have duplicate title tags and meta tags. While it is not an issue to have duplicates on things like category pages, you should not have too many pages with duplicate tags. By fixing problems like this, you can help your site handle Google's May 2020 update.
If you want to talk about SEO, call 917.420.0333 to speak with our resident SEO expert, Allen , who can give you a complete analysis of this Google update!!