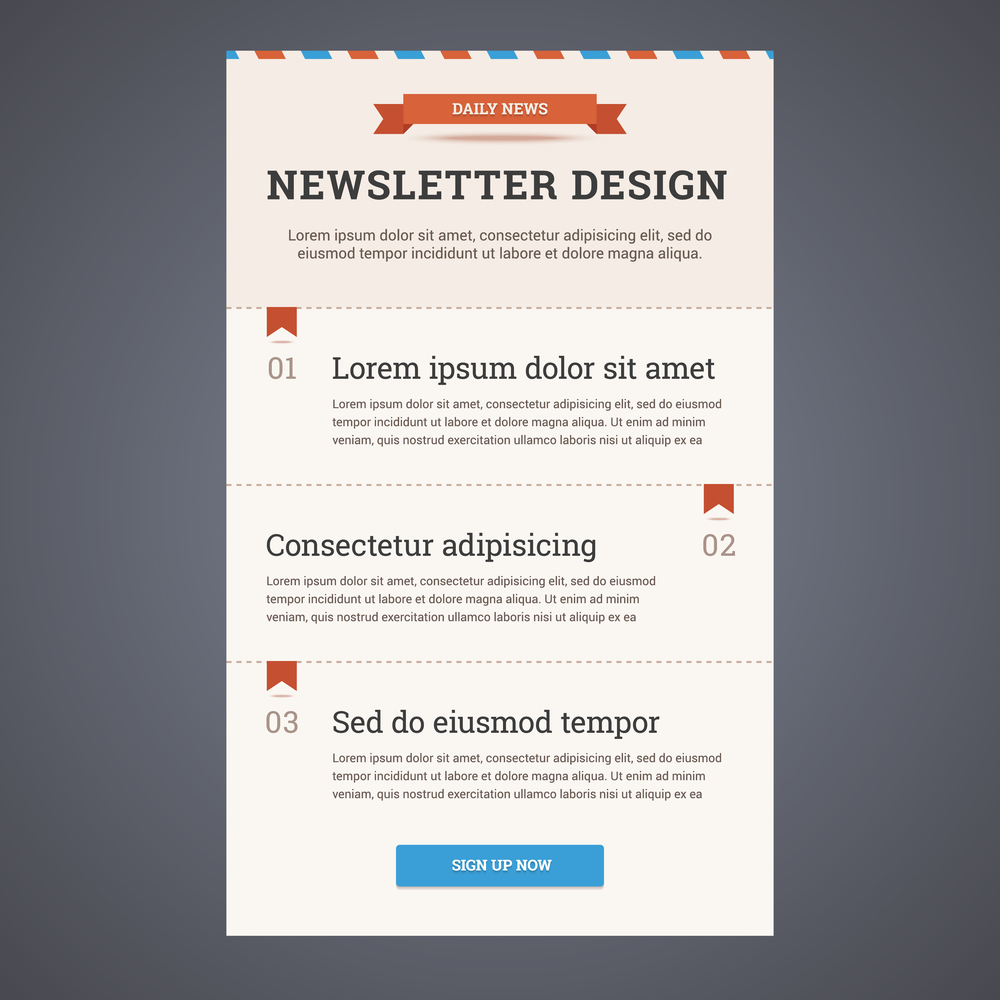 If you don't know how to create an email template, you're in the right place. Templates allow you to focus on your content without recreating the wheel for every email you send. It can even make A/B testing easier as you can quickly make changes to elements for comparison such as images, colors, headings, and CTAs.
Whether you have an ongoing email strategy, or are planning one, you can save time by designing email templates. Templates provide a reusable design ready for your content. The template allows you to maintain a strong brand presence with your emails, while still getting your marketing messages across.
Although some designers might shrink in horror at the idea of being stuck with a template, it actually allows some leeway for creativity. It also saves time and allows the creative team to focus on more important things.
Creating effective email templates takes some skill, but coding is not necessarily required. Here are some tips on how to create an email template for your email marketing campaigns.
Choose a Template Designer
As promised, no coding is required to create your templates. All you have to do is choose a WYSIWYG (what-you-see-is-what-you-get) editor. The easiest sources for your templates are:
1. Your Email Service Provider: Leading email service providers offer an impressive template library. Basic editing tools allow you to customize templates to meet your needs. This includes the addition of your logo as well as choosing colors, fonts and the addition of images. You can then access your account and switch up your content when you are ready to send out an email. This makes everything easier and is ideal for small businesses with limited resources.
2. Third-Party Templates: Your second option is using third-party templates. Some excellent options include:
Stripo.email

Campaign Monitor

Mailchimp

Taxi for Email

GetResponse

MailStyler2

Mosaico

BEE Free

Chamaileon

Topol.io
If you don't have an inhouse design team, or the time to go through the third-party libraries, you can outsource your template design. Our team can design email templates for you that reflect your brand, optimized for the best results.
Optimize Your Images
Choose images that are relevant to your message. If the image shows what you're offering, they barely have to read it to be interested. Place the image at the top of your email template with your heading to attract attention quickly.
Optimize Your CTA
Your CTA has two elements:
The call to action itself: Your CTA should be short and sweet, with actionable directions such as "buy", "download", or "register." You can also add a sense of urgency with "now" or "today." If you prefer, take a friendlier tone with words such as "join us" or a personal touch like "your offer" into the mix.

The visual for the link: Your visual should draw attention to your CTA. Buttons work well.
The important thing for your email template is to place your CTA button above the fold so it's prominent. This way the reader doesn't have to scroll to know what they have to do.
The Sooner the Better
This time-saving step not only makes email campaigns easier, but also allows you to provide a consistent message and branding. The Rebel Unicorn team can help you create compelling email templates and campaigns to grow your business.
We can help you run a successful email marketing campaign, and have many years of experience helping our clients grow responsive email lists that boost conversions and the bottom line.
Let us show you what we can do for you. Contact us today.